.: Biography


I was born in Geneva.
After secondary school I completed an apprenticeship in Physics here in Geneva. Then I lived for a year in Denmark, 16 years in the United States, traveled 6 months in South America and returned to Geneva.
I received my first massage at the age of twelve, which influenced the choice of my present activity: alternative medecine.
I began my training as a Naturotherapist in Geneva in 2001, studying Relaxing massage, Sport and Deep tissue, pregnancy massage, massage for couple, four hands massage, Reflexology, Reboutology®, and Nutrition, and took various courses thereafter (cellular Medecine, Reiki, Shiatsu (Japanese Massage) and the Dorn Method and Iridology)
I love nature, music, healthy meals and I regularly take dance classes.
I am registered with the Cantonal Doctor's Service for complementary practices.
I am also a Massage and Reflexology Trainer at Club Migros School.
I fluently speak French, English, Spanish and Italian.
All of this allows me to be able to offer various services which I hope will satisfy your needs.
Michel del Amor,
Naturotherapist
.: Diplomas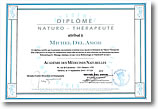 Naturothérapy
• Massages
• Reboutologie®
• Nutrition
• Reflexology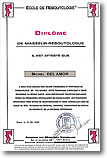 Reboutologie
Reiki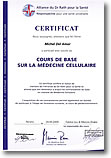 Cellular Medecine
Dorn & Breuss