.: Welcome to detente.ch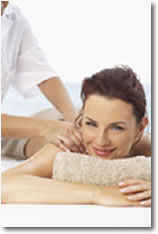 The Institute of Natural Medicine is a Center for Alternative Medicine in Geneva, dedicated to the following areas:
• Massage
• Reflexology
• Shiatsu
• Iridology
• Dorn method
• Couple massage and Parent/Child Massage
• Nutritherapy
• Training in massages and reflexology.
Certified Naturotherapist, I welcome you to my website …
I'm offering a wide range of services which, I hope will provide an excellent moment of relaxation, well-being or help you with a physical condition that you want to improve.
Having studied naturotherapy in Geneva, and I acquired my experience in different health,  sport and well-being centers.
I began my training as a Naturotherapist in 2001 by studying Relaxing, Sport,Deep Tissue Massage, Reflexology, Reboutology® and Nutrition,
I subsequently undertook  various courses; Shiatsu (Japanese massage), Cellular medicine, Reiki, Dorn method (very gentle method, complement to Osteopathy) and Iridology(eye exam , for a health assessment.
I am also a Massage and Reflexology Trainer at my Institute as well as at the Migros Club School in Geneva and Nyon.
The Institute of Natural Medicine is an arcade  at Rue du Beulet 1, 1203 Saint-Jean-Genève with private parking for my clients, in which I work from Tuesday to Saturday.
Thus I offer personalized services, according to your needs, and invite you to click on the areas that are of interest to you.
See you soon,
Michel del Amor,
Naturotherapist